Young Carers and Young Adult Carers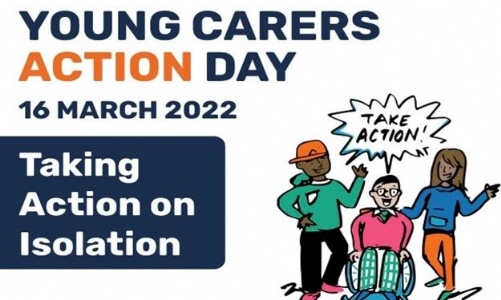 Young Carers Action Day is an annual event organised by Carers Trust. It is a day for raising awareness of Young Carers and Young Adult Carers, the pressures, the challenges they face and the incredible contribution they make by caring for family members
A young carer is someone aged 25 and under who cares for a friend or family member who, due to illness, disability, a mental health problem or an addiction, cannot cope without their support. Older young carers are also known as young adult carers, and they may have different support needs to younger carers.
This year the theme is 'Isolation'
I know a Young Carer or Adult Carer, where can they get support?
The responsibilities of young and young adult carers vary greatly, so they may be eligible for support, even if they don't feel like they do a lot of caring. If you know a young or adult carer, tell them to get in touch with their local carer service. Support workers will be able to ensure that they receive the support they need:
Information, advice and support for carers – Lincolnshire County Council
Nottinghamshire Young Carers Service | TuVida
Young and young adult carers are supported in school. Our dedicated club allows our young people to benefit from having someone to talk too, have some time to relax, and take part in a range of activities. We meet in 'The House' every other Tuesday.
What some of our students say:
'I like Young Carers club as it offers so much support for me at school and at home. It has made me realise that there are others in the same situation as me and it's nice to know that there are other students to support you'.
'I like Young Carers club because we do fun activities and get to meet new people in a similar situation. It is a safe place for support'.
'Young Carers club has made me notice that people around me have the same experiences that I have. It makes me feel connected to others'.
'I like Young Carers club because it's a safe and welcoming place to go and meet new people from other forms and year groups'.
Useful websites:
Lincolnshire Parent Carer Forum - LPCF Home (lincspcf.org.uk)
Notts Parent Carer Forum (nottspcf.org)
Sibling Carers - Home - YoungSibs
Mrs E Banks – Teaching Assistant, Mr A Shivas – Subject Leader for PSHE + Acting Head of Year and Mrs J Grimmer – Teaching Assistant