Library News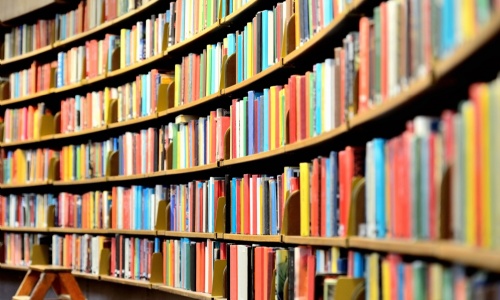 Libraries are doing their bit for climate change
Here at the KSHS library we are making moves towards using less plastic; Replacing plastic date stamp pockets with more sustainable paper versions produced on site, and by using fewer plastic covers where possible (this can however shorten the life of a popular book- think how many times a book gets unintentionally knocked around in a school rucksack each day!). Books that have become too tatty and reached the end of their shelf life are recycled, recrafted or sold in our charity book sales. We also have recycling bins in the library and encourage students to think carefully about what they need to print out.
Remembrance in the library
The Diary of a Young Girl by Anne Frank is one of the most globally borrowed books of all time. This enduring testimonial continues to be in high demand and is the perfect example of how one book can continue to make a huge impact on so many. This week our Library Captains have curated a collection of books to browse or borrow that reflect the many elements of war, and as we commemorate Armistice it is fitting to be reminded of the importance of being informed, and the role that libraries play in providing and sharing information for all.
Anti-bullying week - Monday 15 November to Friday 19 November
The School library is an inclusive space for all to enjoy. It can provide a quiet corner to work or read in individually, or an opportunity to meet with friends or like-minded bookworms. There is a dedicated Shelf Help section that is full of books that can help students to navigate through the range of challenges that can present themselves and there is always a member of staff available to help with enquiries.
Mrs C Gibson
Learning Resource Centre Manager