Sixth Form Talk - Coppafeel!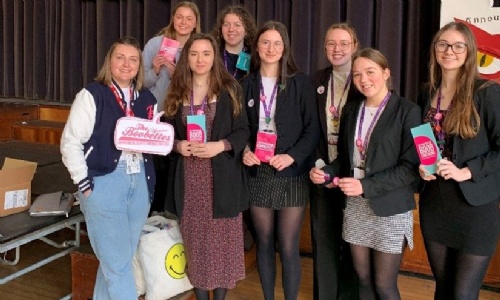 As part of their Core Programme Years 12 and 13 had a talk from a 'Boobette' from the charity Coppafeel! on Friday 3 March.
Coppafeel! are a breast health awareness charity, who exist to raise awareness about the importance of checking breasts regularly for any changes that could be a sign of breast cancer. Hannah who came in to speak to our students told them story of Coppafeel!'s founder, who was dismissed as being too young to have breast cancer by medical professionals until it was too late to be cured, and then shared her own experiences of being diagnosed and treated for breast cancer when she was only in her early 30s. The session also included videos and explanations of how to check breasts step by step and any signs to look out for that something is not quite right. Students really enjoyed the session, which was both engaging and quite emotional, and felt that they were now much more aware of the need to regularly check their own breasts, as well as understanding how to do this. Hannah gave out lots of freebie leaflets, badges and stickers which were highly coveted by students!
Students said things like 'I now feel educated and know what to do to check myself'; 'It was really good to hear Hannah's personal story'; 'The interactive elements of the presentation were really engaging'; and 'I will definitely check myself regularly now'.
As 1 in 8 women are likely to develop breast cancer in their lifetime, we felt this was a hugely important topic to raise awareness of. If any parents/carers would like further information the website link can give you more information. You can also sign up for monthly text alerts to remind you to check.
Breast Cancer Info & Advice | CoppaFeel!