Bake Sale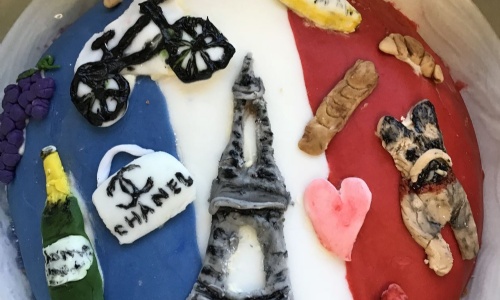 To celebrate European Day of Languages on the 26 September the school enjoyed an entire week of European Languages activities.
Staff were seen wearing bright yellow badges with "hello" in different languages to challenge students to see how many they could find and pronounce. Students participated in mini challenges such as designing a t-shirt and how to read the international phonetic alphabet. Some Year 9 classes also got into the competitive spirit by collecting as many points as they could by improving their language skills on the app www.languagenut.com.
Mr Rooke also inspired the school with his assemblies on why we should learn a foreign language. To finish the week the Modern Foreign Languages department held the Great European Bake Off in which Key Stage 3 students competed against one another to make the best European cake. It was a tough decision and resulted in three different winners: Nadia Bialas (7A), Freya Disdale (9BM) and Tilly Edgar (7F) and they were each awarded with £10 Costa vouchers. There were also three runners up: Abi Watt (8W), Caity Johnson (7L) and Kitty Cameron (9MC) who won a £5 Costa voucher.
Once the cakes were judged, the languages Prefects held a huge bake sale and raised £182 to be donated to Macmillan Cancer
Support.
Sophia Ott (13L) and Libby Cawsey (13F), Y13 German and French Prefects and Mrs Ellison, Head of French