Rotary Club Schools Technology Tournament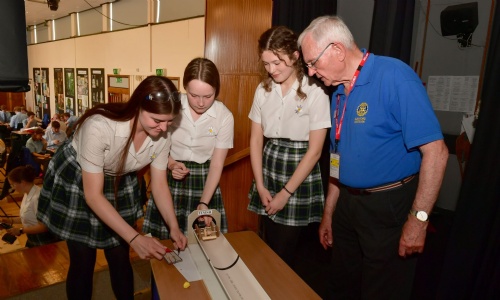 Sleaford schools went head-to-head in an exhilarating technology tournament on Friday 17 June. A total of 27 teams of four students competed to be crowned champions. Teams of four students were challenged to design, develop, build and test a solution to an unknown technical challenge, using materials supplied, against the clock, in a one-day event.
The task was revealed to the students in the morning which involved building a vehicle to travel down a pipe to remove debris and return to the start. Teams had to build everything from the vehicle itself, the wheels and gears mechanism, and a controller to allow the motor to reverse. It was a challenging day, made even more difficult byit being the hottest day of the year so far! A range of technology and engineering skills were needing to succeed, with students' portfolios, designs, communication, teamwork, and final construction all contributing towards the final points tally.
KSHS, Carre's, St Georges Sleaford and Ruskington all sent teams from Year 8 and Year 10 to compete. A huge well done to all the teams that took part: all students worked hard and should be proud of their efforts. St George's Sleaford were crowned champions in Year 8, Carre's overall winners in Year 10.
The event was organised and run by a collaboration between KSHS and the Sleaford Rotary club. We are committed as a school to raising the profile of women and girl in STEM subjects. A special thank-you also goes to Grunwald UK, a local engineering firm, who provided judges for the event. The hope is that this becomes an annual event, with a new challenge each year.