Year 12 Geography Fieldtrips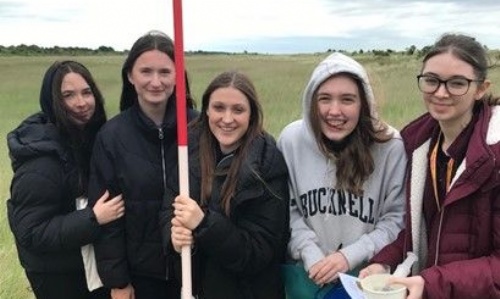 The Geography Department has been busy taking the Year 12 students on fieldtrips in recent weeks.
By visiting Boston, Skegness and Gibraltar Point, students have been introduced to a range of human and physical geographical fieldwork techniques and data collection methods. This is in preparation for the Non-Examined Assessment (NEA) which comprises 20% of their A-Level grade.
The first, busy day was spent in Skegness where students investigated the impact of coastal processes. Data collection methods included beach profiling, groyne measuring, measuring pebble size and angularity and field sketching. Students considered the effectiveness of the coastal management strategies and discussed some cost-benefits of coastal protection. Students also spent time at Gibraltar Point investigating the changing profile and microclimatic conditions along a sand dune system where we were briefed and guided by the Lincolnshire Wildlife Trust in the data collection programme.

Day two was spent in the town of Boston where students considered the impact of urban processes. Themes such as social deprivation, enclaving of migrants, changes in the urban landscape and perception of place were discussed. Zones of the town were compared for their environmental quality and land use mapping and questionnaires with the public were also carried out in the town centre.
The Year 12 Geographers will now spend time preparing independent research titles and enquiry questions to answer for their NEA.