New IT equipment for student use ​​​​​​​​​​​​​​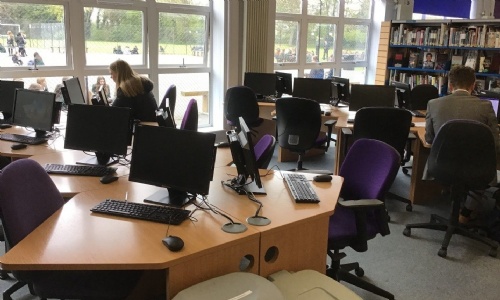 Over the Easter holidays the IT network team were busy in classrooms upgrading a raft of new PCs for student use. As part of our asset replacement plan, new computers have been installed in the library; in V4, a multifunctional classroom with desks that convert to IT spaces when needed; in the Year 13 private study area, and in Geography classrooms.
Summer holiday plans include replacing 6 projectors in various classrooms as well as equipping a brand-new classroom space for the delivery of GCSE, CTEC and A Level Business Studies. These new facilities are due in part to the generous donations from parents/carers as part of their monthly RCT gifting. These donations mean we can provide extras for students and go beyond the standard asset replacement that government budgets allow.
If you are interested in finding out more about how you can contribute to this scheme, we would love to hear from you. Please contact our Finance team finance@robertcarretrust.uk. Any donation, even if it's a couple of pounds a month adds up to great opportunities and increased access to resources for students across the school.
In the past the funding has been used to support Performing Arts ventures, IT access for less advantaged students during the pandemic and access to counselling services for students suffering with poor mental health.