Art Workshop with Helena Doyle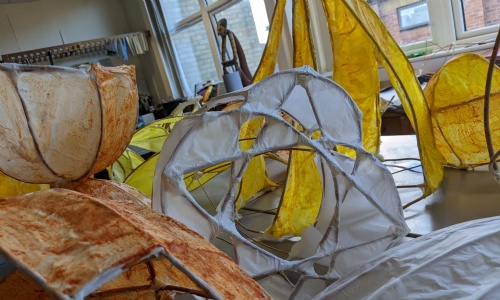 Students from Years 7-10 and 12 spent a busy day on Monday 7 March working with London-based installation artist Helena Doyle, making willow lanterns that will adorn the bridges of Sleaford during the Riverlight Festival which takes place on the 19 March.
Helena taught the students how to use willow to make sculptural shapes inspired by natural forms such as seed pods, leaves and shells. Once the willow has been bent in to shape and fixed together, it is covered in a mixture of tissue paper, PVA glue and flour, to give a white translucent surface. Some of the lanterns were then coloured using natural dyes – turmeric and chilli powder. Before they are installed on the bridges, the lanterns will be filled with LED lights to make them glow.
It was a very fun, messy day working with a professional artist on some 3D work, and the students really enjoyed themselves.
You can see these artworks installed, along with work by other schools in Sleaford and Helena herself, on the bridges and river around The Hub on Saturday 19 March.